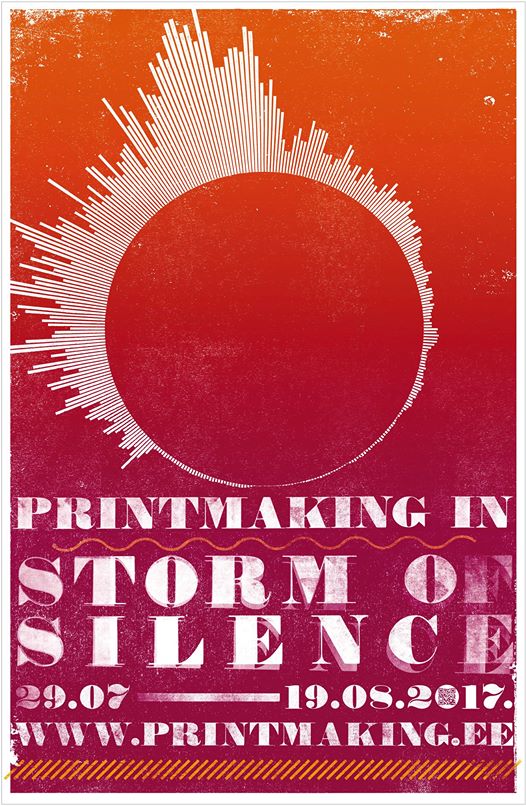 Printmaking IN / IN Graafika Grand Opening in Pärnu 29.07.2017 at 16:00
Printmaking IN / IN Graafika Grand Opening in Pärnu 29.07.2017 at 16:00 in Pärnu Town Hall – Pärnu Town Gallery, Artist House, Avangard Gallery, Central Library, Endla Theatre, TÜRM and TEMPEL! 
Live printing, performances, sounds, workshops and even more!
FB event: www.facebook.com/events/676838112525204/
Opening Rally Schedule – July 29:
16.00 Opening at Pärnu Town Gallery / Linnagalerii – Opening performance
17:00 Pärnu Keskraamatukogu / Central Library
17:30 Endla Theater / Endla teater 
18:00 Avangard Gallery 
18:30 Türm
19:00 Pärnu Kunstnike Maja / Artist House 
19:30 – 21:00 Printmaking IN BBQ (with invitations)
21.00 – Kultuuriklubi Tempel: Diverse Universe Performance Program: Wild Torus, Antibody Corporation, Lal Avgen: "Kara's Dunkelness", Karoline Suhhov "…näeb Und"!
24.00 – 4.00 Official Afterparty at TÜRM – DJ Harmless Fun
Printmaking IN workshops:
FB: www.facebook.com/events/1883835251871170/
Artists & Diverse Universe Performers:
Mara Catalan (Spain), Rasmus Danø & Dorte Naomi (Denmark), Danny Gonzalez (Puerto Rico), Wild Torus – Vlady Voz Tokk & Mág Ne Tá, Lexi Harrington (USA) Taje Tross, Anonymus Boh, Peeter Allik, Toomas Kuusing alias Pinkseldaja Ärra, Leonhard Lapin, Tõnis Laanemaa, Caroline Sada (Estonia) Ieva Nagliņa, Ieva Saulīte, Māris Subačs, Zane Zlemeša, Francis Butlers, Maija Kurševa, Māra Uzuliņa, Armands Grundulis, Anete Enikova, Anete Čīma, Paulis Liepa (Latvia), Maciej Jaroszczuk (Poland), Eric Piper, Jenna Bryan, Curtis Cullen Curtis, Curtis Jones, Ryan O'Malley, Amazing Hancock Brothers – John Hancock, Marc Brunier Mestas, Tyler Krasowski, Carlos Barberena DelaRocha, Burning Bones Press & Carlos Hernandez , Amber Crimmings, Alley Cat Press, Cannonball Press: James Martin Mazorra & Mike Houston, Fatherless – David Menard & Saturated Threads, Geb Berr (USA), Niña Yhared & Okapi Gallery – Temuri Hvingija (Mexico/Estonia) Frederic Krauke (Germany), Jim Pirtle, Maurice Abelman (USA), Hye Young Chyun (Korea) Mina Büker & Lal Avgen (Turkey), Wiiu Wiiulainen & Salla Valle (Finland), April Lynn & Adam Rose, Steve Vanoni (USA) and many others!