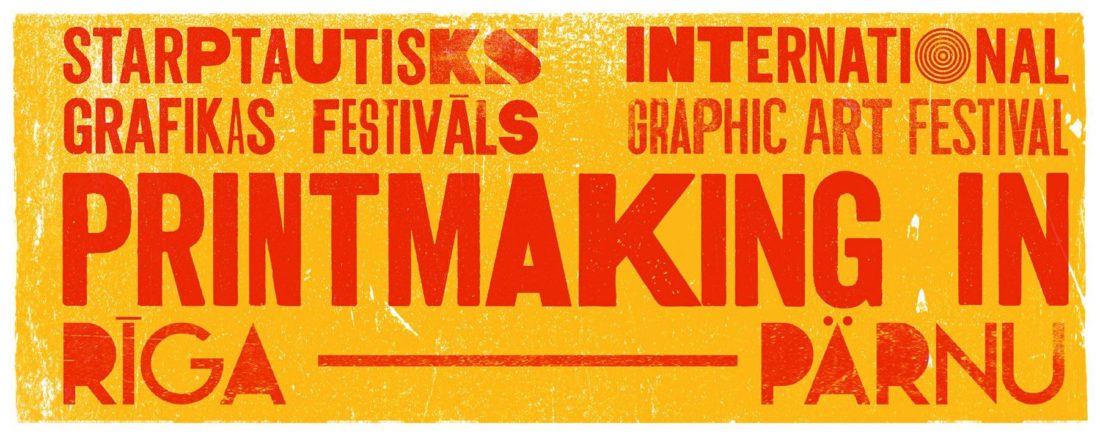 Printmaking IN festival 2016
Printmaking IN is an annual International printmaking festival in Estonia since 1998. Eighteenth consecutive festival "Back to Chaos" is going down on 29-31.07.2016 in PÄRNU and RIGA.
Printmaking In is a connecting platform with American, Asian and European printmaking networks – all of them are going to be represented at the festival!
Program:
Friday 29.07 RIGA; LATVIA
16.00 OPENING
Book shop "Bolderāja" / Grāmatu veikals "Bolderāja"
Solo exhibition by Janika Herlevi (Somija)
Janika Herlevi personālizstāde
17.00 OPENING
Gallery "427" / Galerija "427"
Solo exhibition by Inga Ģibiete
Ingas Ģibietes personālizstāde
18.00 OPENING
Kanepe Culture Center / Kaņepes kultūras centrs
Solo exhibition by Toomas Kuusing
Toomas Kuusing personālizstāde
19.00 OPENING
The Riga City Council Association of Cultural Institutions Exhibition Hall
Solo exhibition "Stardust" by Anonymous Boh
Anonymous Boh personālizstāde "Zvaigžņu putekļi"
Exhibition "Back to Chaos" by artists from the USA
ASV mākslinieku izstāde "Atpakaļ haosā"
20.00 OPENING
Culture and Arts Project NOASS / "Kultūras un māksla projekts NOASS"
Kinobox Obscura (Juho Poesiloe Pöysti, Mika Palonen, Tuomo Vuolteenaho and Risto Puurunen), Finland
Liena Bondare and Vilnis Putrāms, Latvia
Izstāde ar Rasmus Danø (Dānija), Kinobox Obscura grupa (Juho Poesiloe Pöysti, Mika Palonen, Tuomo Vuolteenaho un Risto Puurunen, Somija), Liena Bondare un Vilnis Putrāms (Latvija) piedalīšanos. Performances by NON GRATA, "AINA", "Klīga"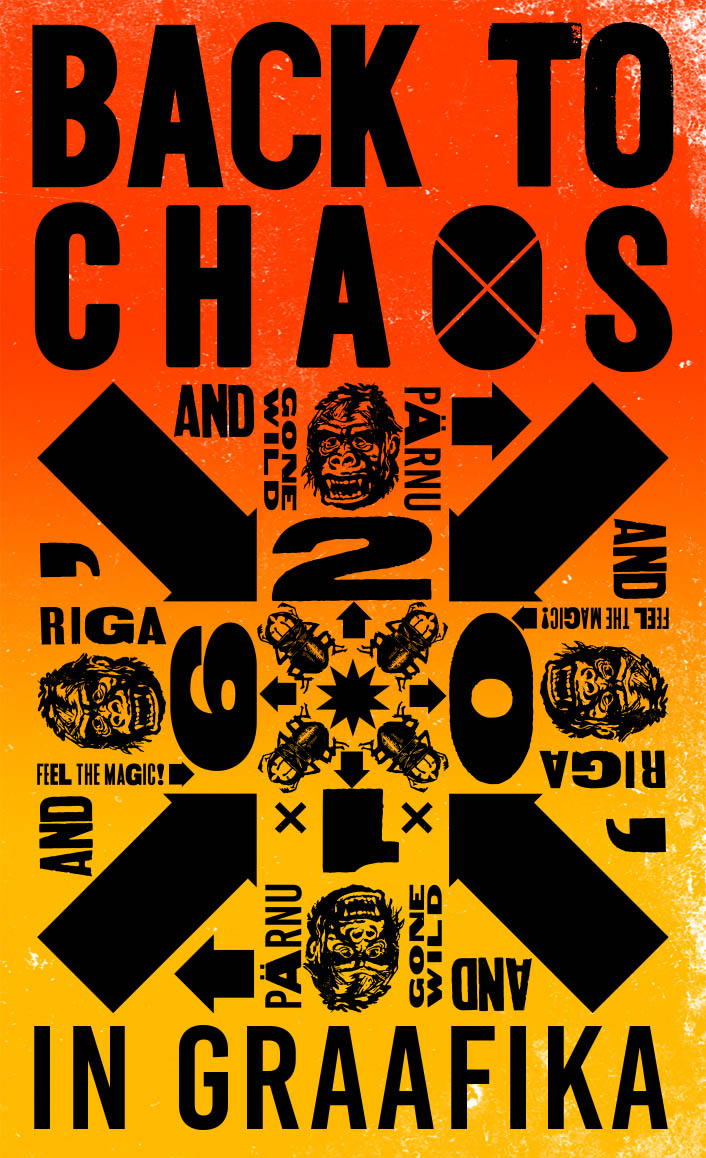 Saturday 30.07.2016
Printmaking IN Riga LIVE print program
12.00 take off to Pärnu "BACK TO CHAOS"
16:00 Exhibition Opening in Pärnu Keskraamatukogu (Akadeemia str) – MATTI MILIUS exhibition (Curated by Meelis Tammemägi)
16.30
Exhibition Opening in Endla Theatre (Akadeemia str)
Printmaking IN exhibition – Tyler Krasovski, Eric Piper (USA), Kate Seržāne, Mārīte Kluša, Maija Kurševa, Sabīne Vekmane, Ieva Nagliņa & Paulis Liepa (Latvia), Tarvvi Laamann, Peeter Allik, Amazing Hancock Brothers, Ryan O'Malley, Julia Curran, Indiosindios Lopez (Mex), Bo Bo & Lemon (China) jt.
17. 30
Exhibition Opening in Pärnu Town Gallery
Women Exhibition:
Taje Tross (Estonia)
Britta Benno (Estonia)
Nina Yhared (Mexico)
Sissi & Shaokun Sun (China)
Xenia Fedorchenko (Russia)
Elo Liiv (Estonia)
Performance by Hiroko Tsuchimoto (Japan)
18.00
Exhibition Opening in Avangard Gallery Rüütli 29
Anonymous Boh solo exhibition
19.00
Exhibition Opening in Pärnu Artist House Nikolai 27
Caroline Sada
19.45
Exhibition Opening in Tartu University Pärnu Collage (Ringi 56) HGDF Graphic Design Exhibition – ALIEN by curator Marko Kekishev
20.00
Exhibition Opening in Katlamaja – Ringi 57
Sculpture installation exhibition "Back To Chaos"
Anonymous Boh, Elo Liiv, Mati Karmin, Aili Vahtrapuu, Mari-Liis Tammi, Temuri Hvingija & R_R, Vergo Vernik, Toomas Altnurme, Kaspar Rabbi, Oliver Rull, Hannes Paldrok, Danny Gonzalez, Johan Huimerind, Põvvat Kama, Leonhard Lapin
Fire Sculpture! NON GRATA PERFORMANCE!
Sounds by Taivo Peterson
22.00
Chill Out in Printmaking IN Studio – Rüütli 23
Danny Gonzalez (Puerto Rico / USA)
Sunday 31.07
15.00
Camera Obscura Boat on Pärnu River
Juho Poesiloe Pöysti, Mika Palonen, Tuomo Vuolteenaho & Risto Puurunen
ORGANIZERS AND PARTNERS / ORGANIZATORI UN PARTNERI
Pärnu Linn
Eesti Kultuurkapital
Grafikas kamera – litografstudio.tumblr.com
Non Grata group http://printmaking.ee/
"Riga Art Space" – makslastelpa.lv, www.facebook.com/Rīgas-Mākslas-Telpa
"Culture and Arts Project NOASS" – noass.lv, www.facebook.com/noass.lv/
Gallery "427" – fourtoseven.info, www.facebook.com/4toseven
Kaņepes kultūras centrs (Canabis Culture Center) – kanepes.lv,www.facebook.com/Zoo.KKc/
Silkscreen Studio "Luste"- luste.lv, www.facebook.com/Luste-silkscreen-studio
Kinobox Obscura – http://www.3dcameraobscura.com/
Bar "Chomsky"
Bar "Pils"
The official project radio station NABA – www.naba.lv
Janis Rozentals Riga Art Highschool – http://jrrmv.lv/en
Jaņa Rozentāla Rīgas Mākslas vidusskola
Zemessardzes 19.nodrošinājuma bataljons